Disclosure: This website is a participant in various affiliate programs, including the Amazon Services LLC Associates Program, an affiliate advertising program designed to provide a means for sites to earn advertising fees by advertising and linking to Amazon.com. As an Amazon Associate, we earn from qualifying purchases. We also participate in other affiliate programs and may earn commissions through purchases made through our links. Any opinions, reviews, recommendations, or endorsements expressed on this site are our own and are not influenced by any third-party products or services being promoted.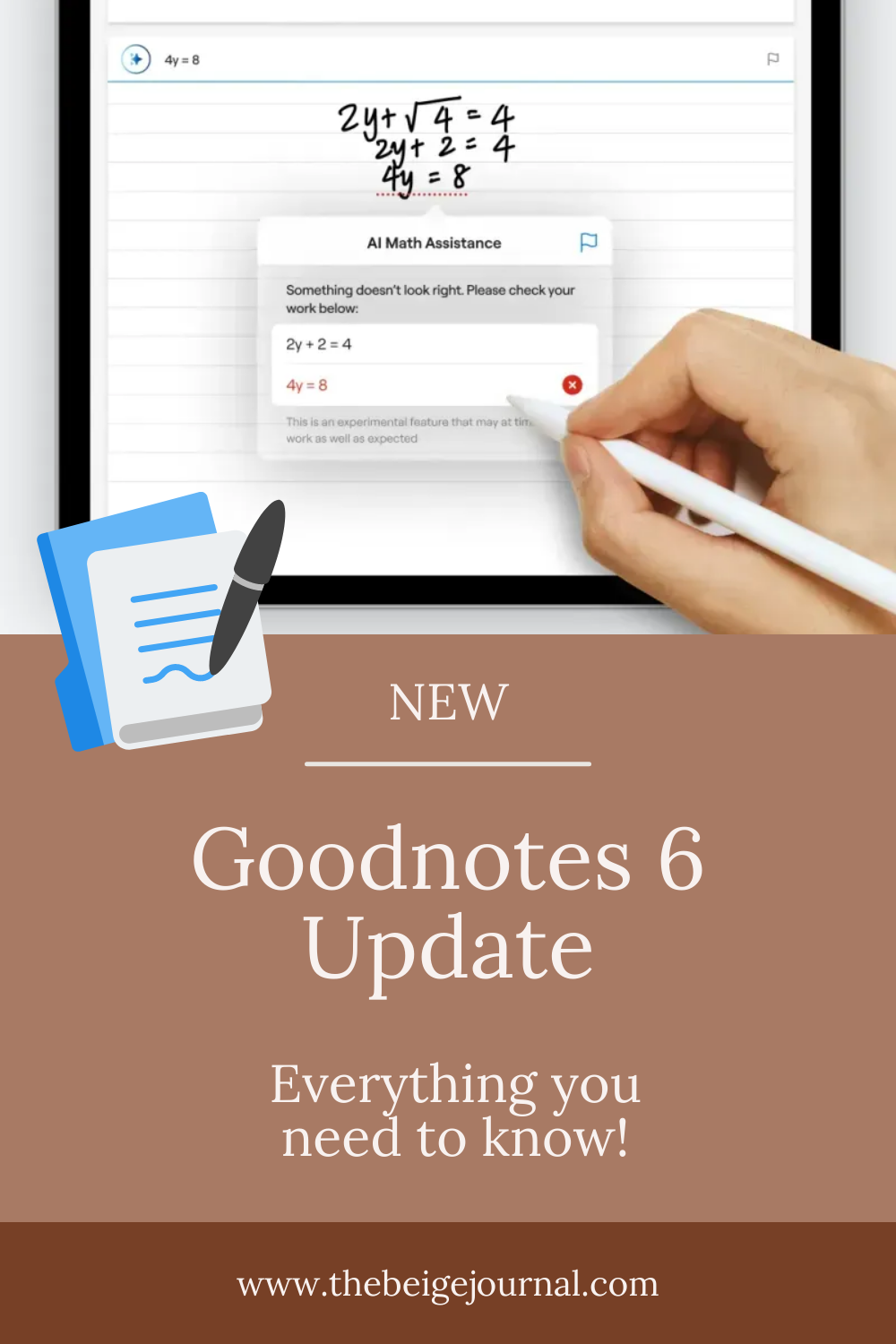 GoodNotes, a popular digital note-taking application, has recently unveiled its latest version: GoodNotes 6. This article provides an objective overview of the new features, improvements, and pricing structure introduced in this update.
What's covered in this post
Pricing Structure

GoodNotes 6 has introduced a new pricing model. Users can opt for a subscription at $9.99 US dollars annually or make a one-time purchase for $29.99 US dollars. There's also a free version available, but it limits users to a maximum of three notebooks. For those who previously purchased GoodNotes 5, the company is offering tiered discounts based on the purchase date, ranging from 20% to 100% off. Detailed information about these discounts can be found on the GoodNotes website. Users who prefer not to upgrade can continue using GoodNotes 5 but won't receive the new features and updates.
Features and Improvements

User Interface:
GoodNotes 6 boasts a revamped and streamlined user interface optimized for enhanced usability. The new sidebar provides quick access to various sections, including documents, search, and the marketplace. The toolbar icons have been redesigned to be rounder and more visually appealing.
Writing Gestures:
The writing experience in GoodNotes has been further refined with new gestures:

Scribble to Erase
Quickly erase mistakes by scribbling them out without switching to the eraser tool.
Circle to Lasso: Encircle content to move it around the page without selecting the lasso tool.

Math Conversion
Convert handwritten math equations into font. This feature will also be added to GoodNotes 5.
AI Writing Aids
GoodNotes 6 introduces AI-powered writing aids:

Spell Check
As you write, misspelled words are underlined in red. Tapping the word offers a correct spelling in AI-generated handwriting that matches your style.
Word Complete: If you pause while writing a word, the app suggests its completion in
AI-generated handwriting.

Custom Template Library
Users can access a variety of templates, from lined to graph paper, and customize them in terms of size, shape, background, and line color.

Folder Customization
Organize notes by changing folder colors and adding personalized icons.

In-App Marketplace:
Subscribers gain access to exclusive content and discounts. The marketplace offers digital stationery, stickers, study notes, and interactive exam practices for public exams like SATs and math prep courses.


Upcoming Features:

GoodNotes has hinted at more features in the pipeline, including password-protected notebooks, a pencil tool, and internal links between pages.

In conclusion, GoodNotes 6 offers a blend of a user-friendly interface, powerful writing capabilities, organizational features, and customization options. It caters to a diverse audience, from students and professionals to creative individuals. Whether or not to upgrade to this new version is a decision users will make based on their individual needs and preferences.
Looking for an iPad?

Try Digital Planning