Disclosure: This website is a participant in various affiliate programs, including the Amazon Services LLC Associates Program, an affiliate advertising program designed to provide a means for sites to earn advertising fees by advertising and linking to Amazon.com. As an Amazon Associate, we earn from qualifying purchases. We also participate in other affiliate programs and may earn commissions through purchases made through our links. Any opinions, reviews, recommendations, or endorsements expressed on this site are our own and are not influenced by any third-party products or services being promoted.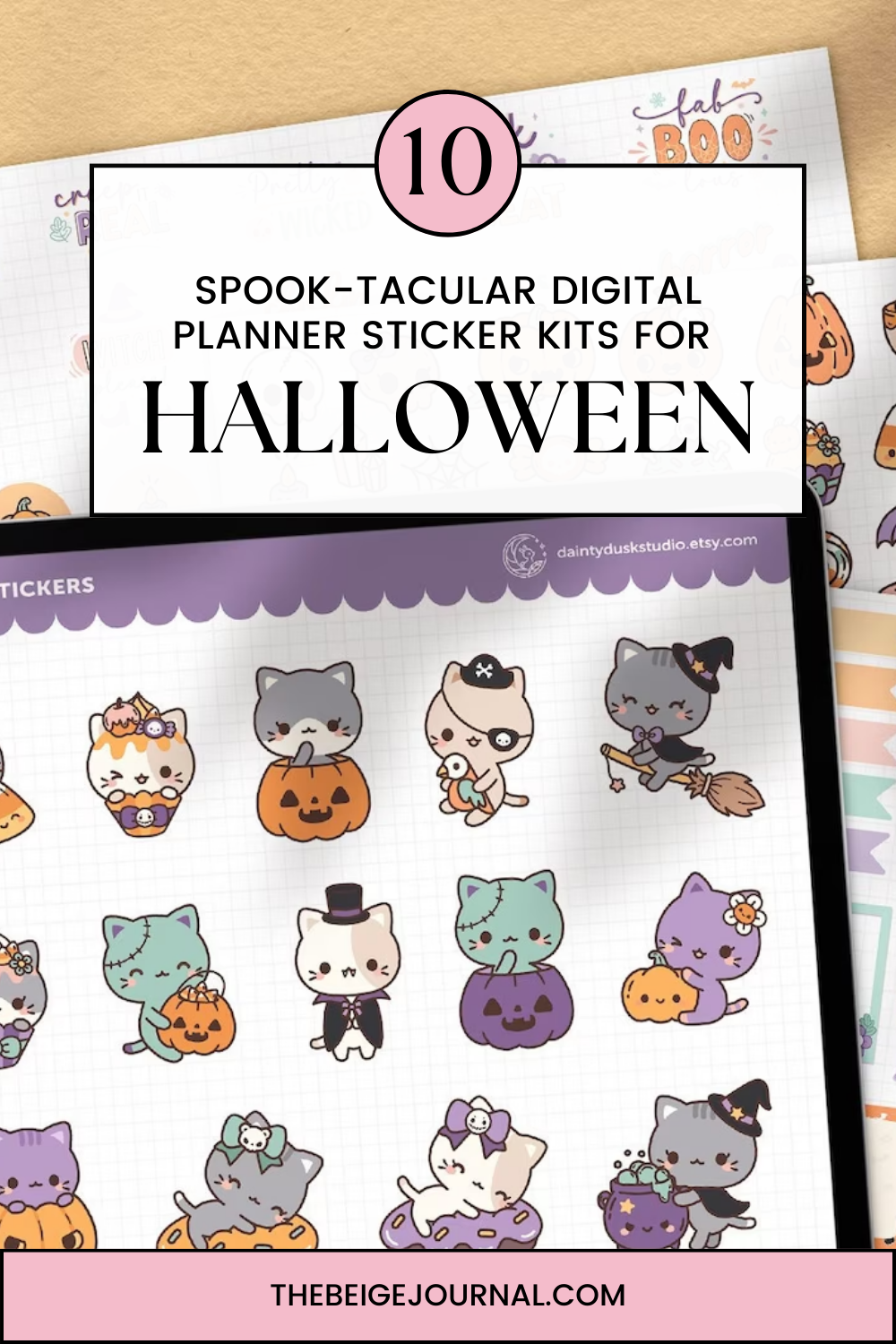 Halloween is upon us, and what better way to spruce up your digital planners than with some spine-chilling stickers and eerie embellishments? Whether you're jotting down your haunted to-dos or planning a monster bash, here are some ghoulish goodies from Etsy to elevate your digital planner game this October!
What's covered in this post
October Digital Stickers 2023 – Goodnotes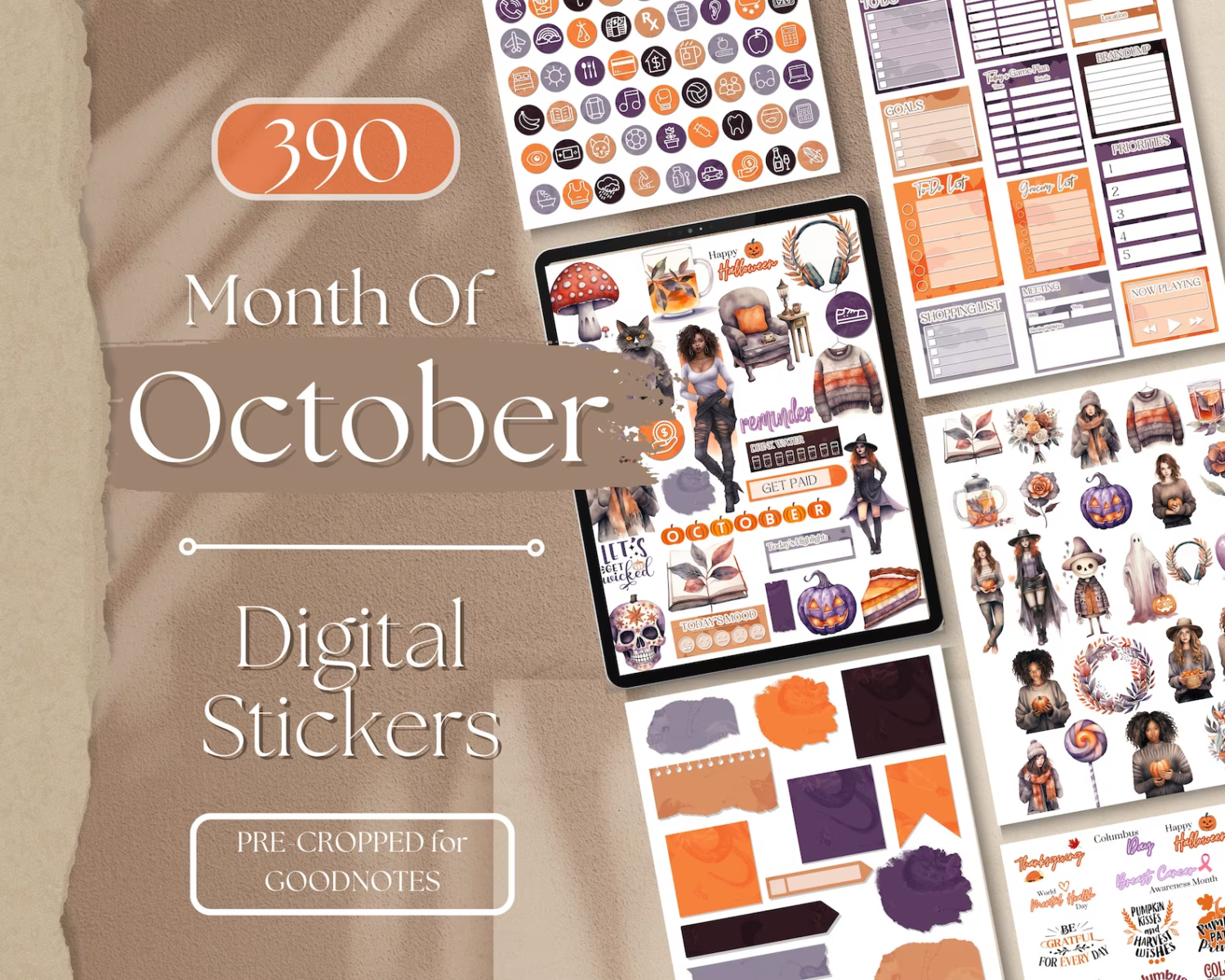 Are you a stickler for seasonality? Dive into the fall spirit with this October-themed sticker set for Goodnotes! Complete with ghosts, haunted houses, and pumpkins, these stickers perfectly encapsulate the essence of Halloween. Planning has never felt this spooky yet delightful!
Cute Spooky Retro Halloween Digital Stickers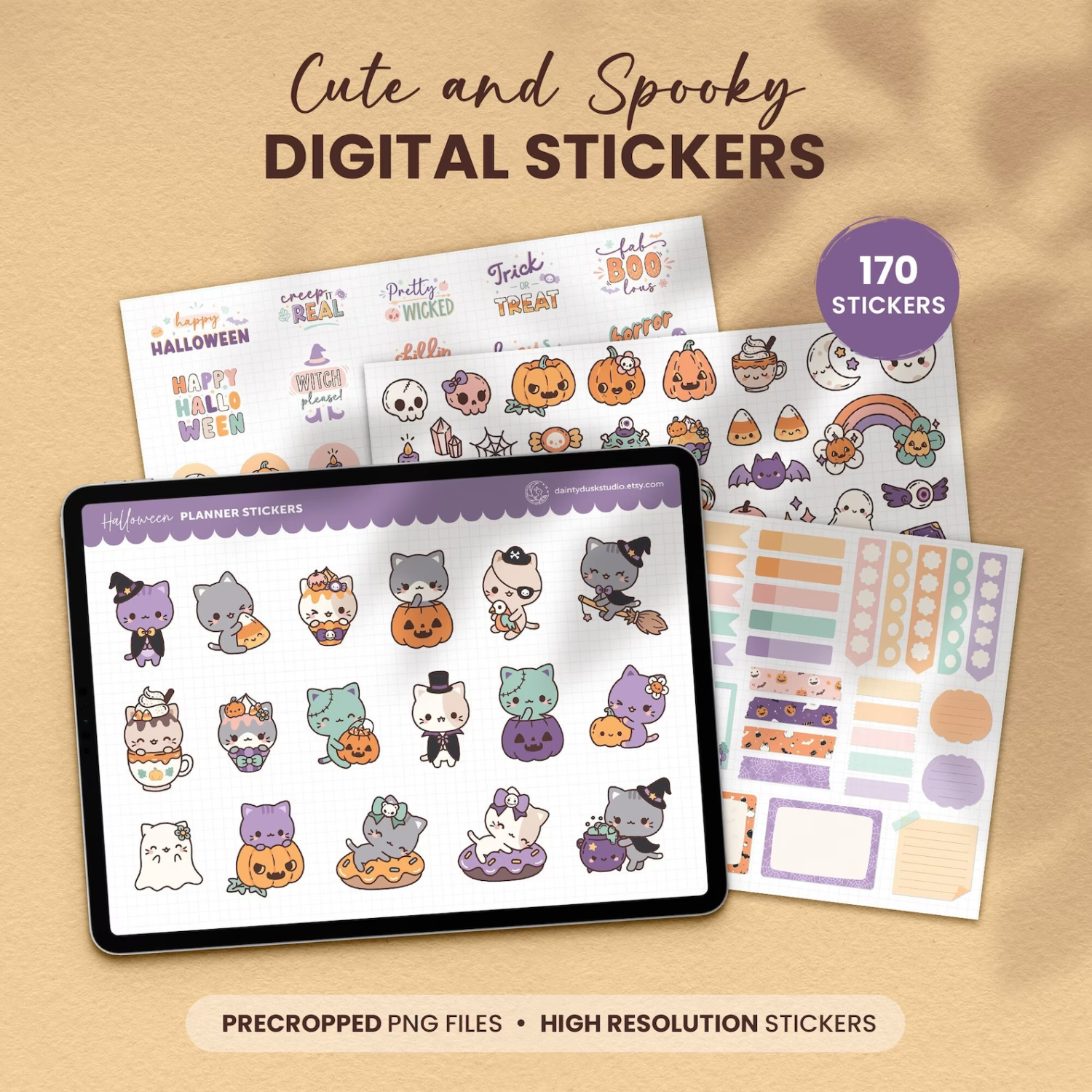 Turn back time this Halloween with these retro-inspired digital stickers! Bursting with vibrant hues and classic motifs like black cats, witches, and vintage pumpkins, this set is perfect for those who adore a touch of nostalgia in their planners. Elevate your planning with a dash of old-school Halloween charm.
Looking for an iPad?

Night Fall Goodnotes Sticker Book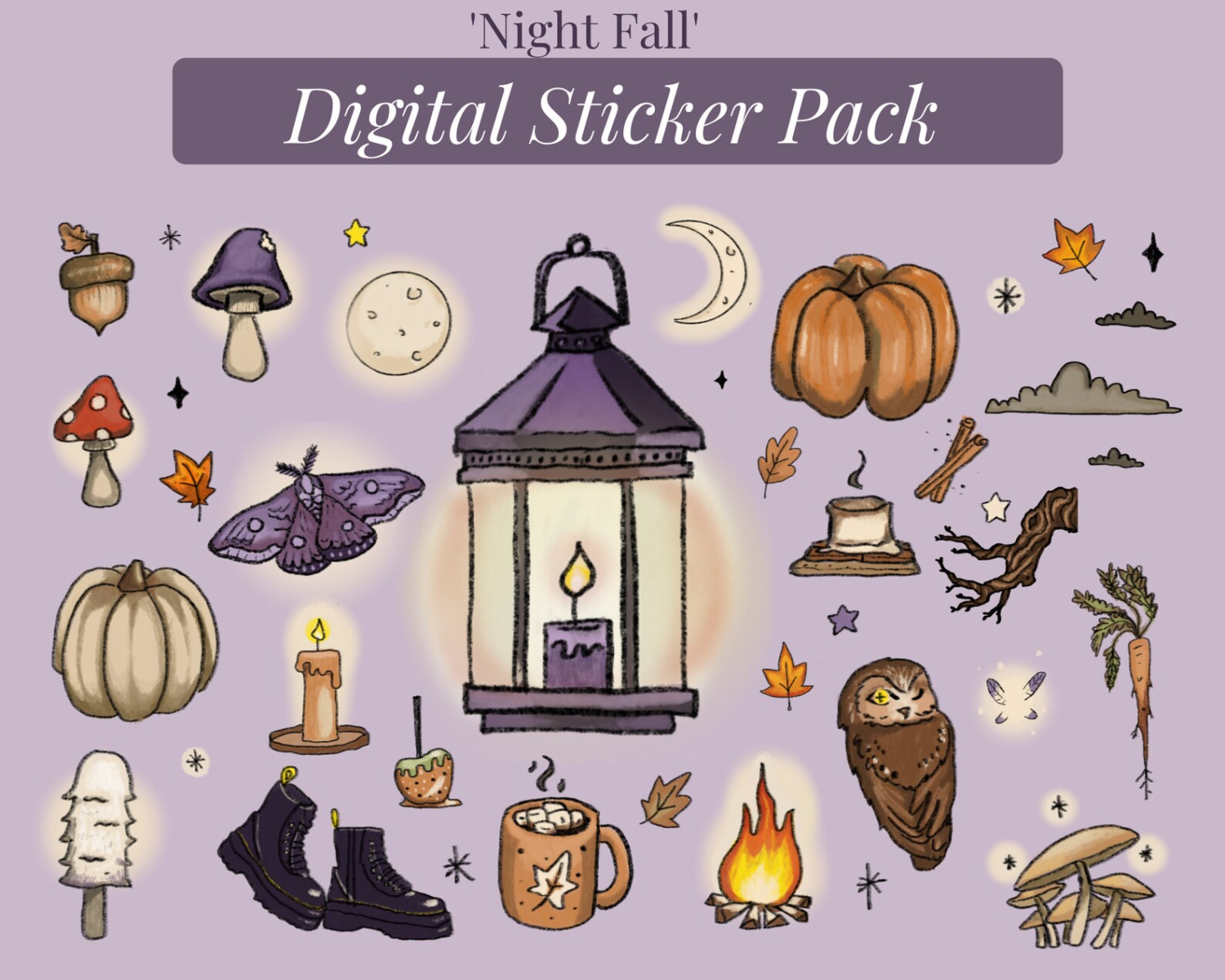 When darkness falls, magic happens! Dive into the depths of the night with this comprehensive sticker book tailored for Goodnotes. From shadowy moons to mysterious owls, every nocturnal nuance is captured, ready to be sprinkled across your planner. Ideal for those night owls who thrive when the sun goes down.
Kawaii Spooky Halloween Digital Stickers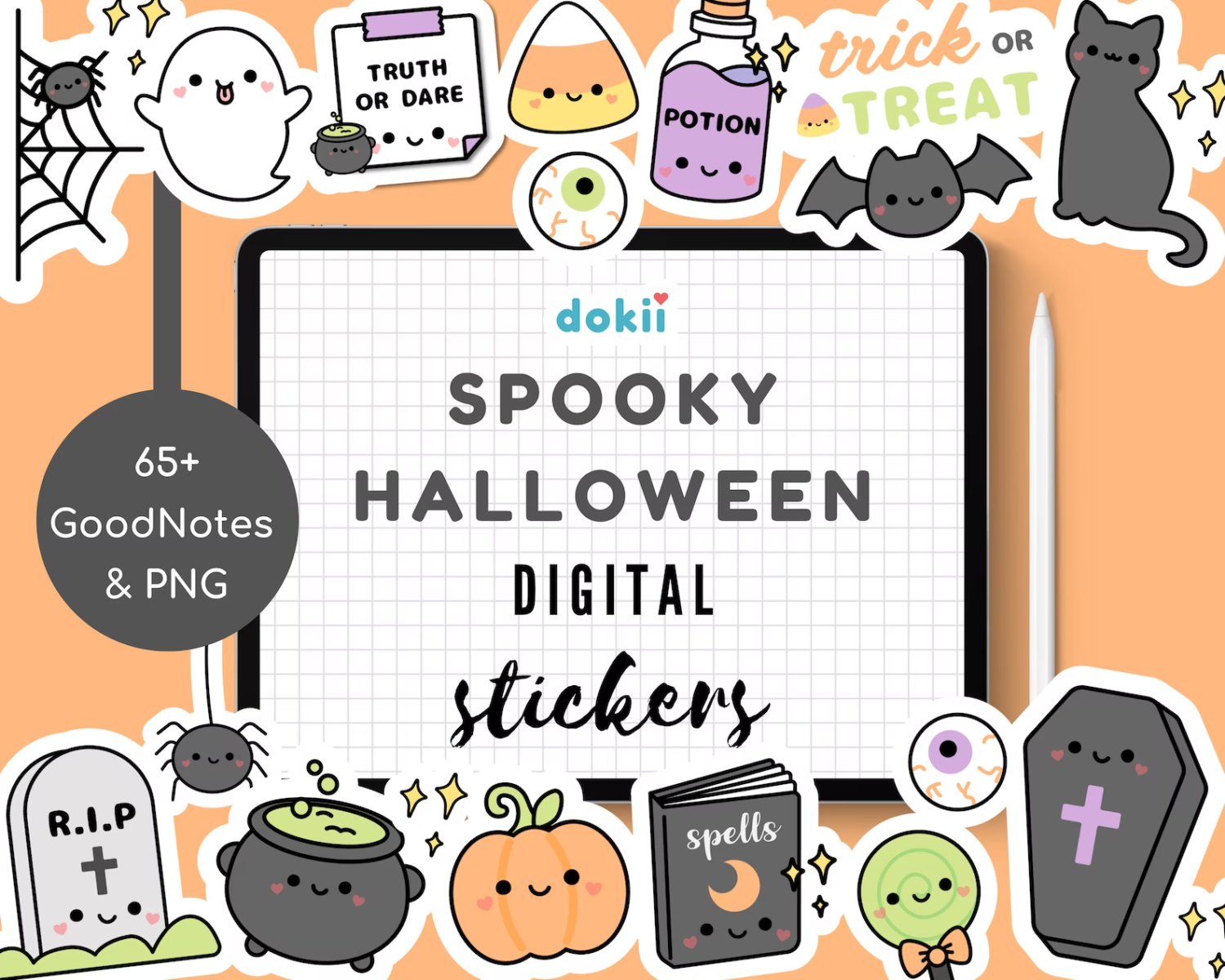 For those who like their spooky with a side of adorable, these Kawaii-inspired Halloween stickers are a must-add to your digital planner! Cute ghosts, lovable pumpkins, and cheerful bats make organizing an utterly delightful affair. Let your planner ooze with cuteness and Halloween spirit all at once!
Witchy Goodnotes Stickers – 400+ Witch Inspired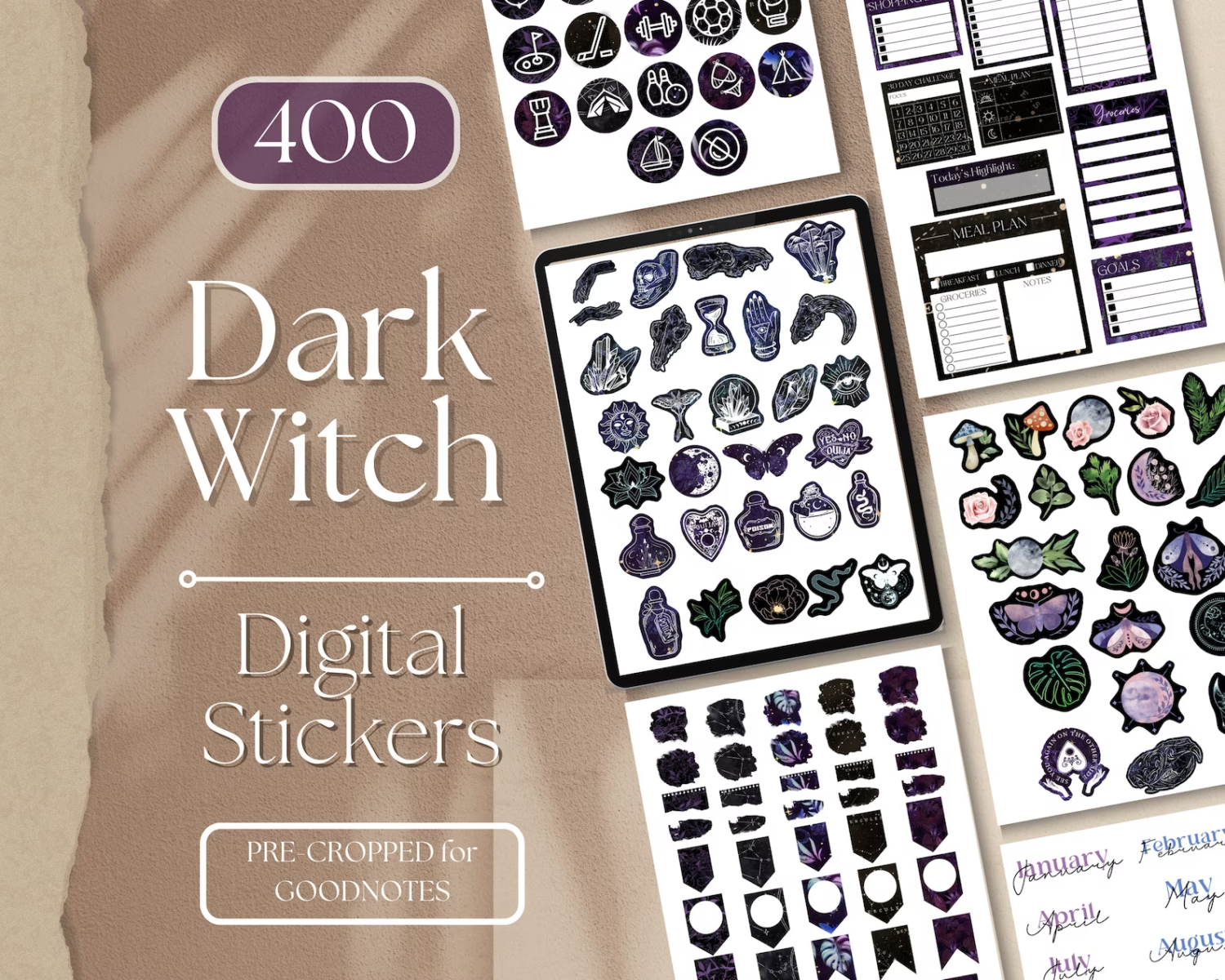 Channel your inner sorceress with this expansive set of witch-inspired stickers for Goodnotes! With over 400 designs ranging from spell books and crystals to broomsticks and cauldrons, this set promises to bewitch your planner pages. It's a magical must-have for every digital planner aficionado.
Dark Academia Stickers – Digital Planner Edition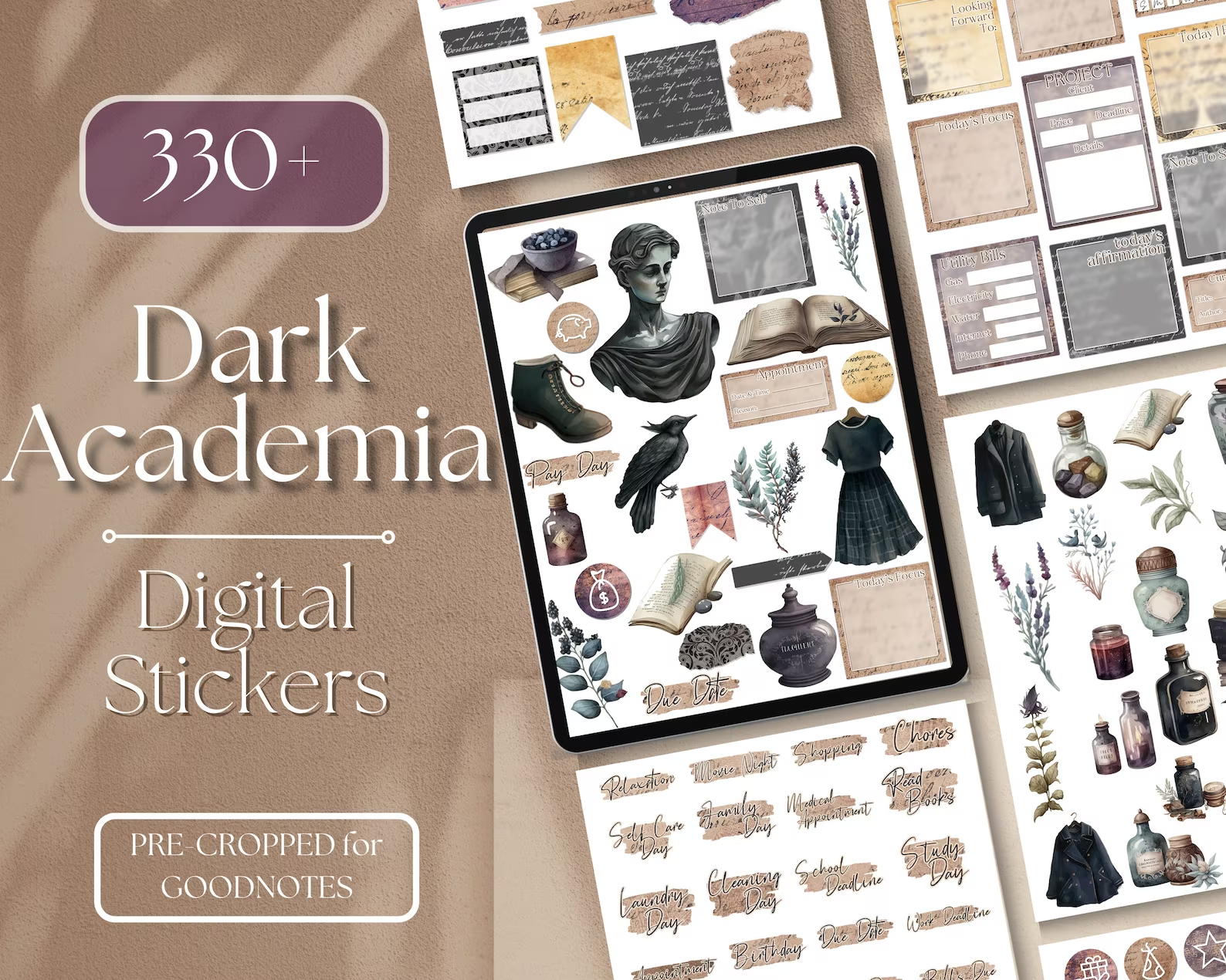 Immerse yourself in the moody aesthetics of dark academia with these thoughtfully curated digital planner stickers. Perfect for lovers of literature, history, and all things vintage, these designs feature iconic symbols, classic books, and elegant motifs that will transport your planner to a bygone era of mystery and knowledge.
Pastel Witchy Goodnotes Stickers – 560+ Designs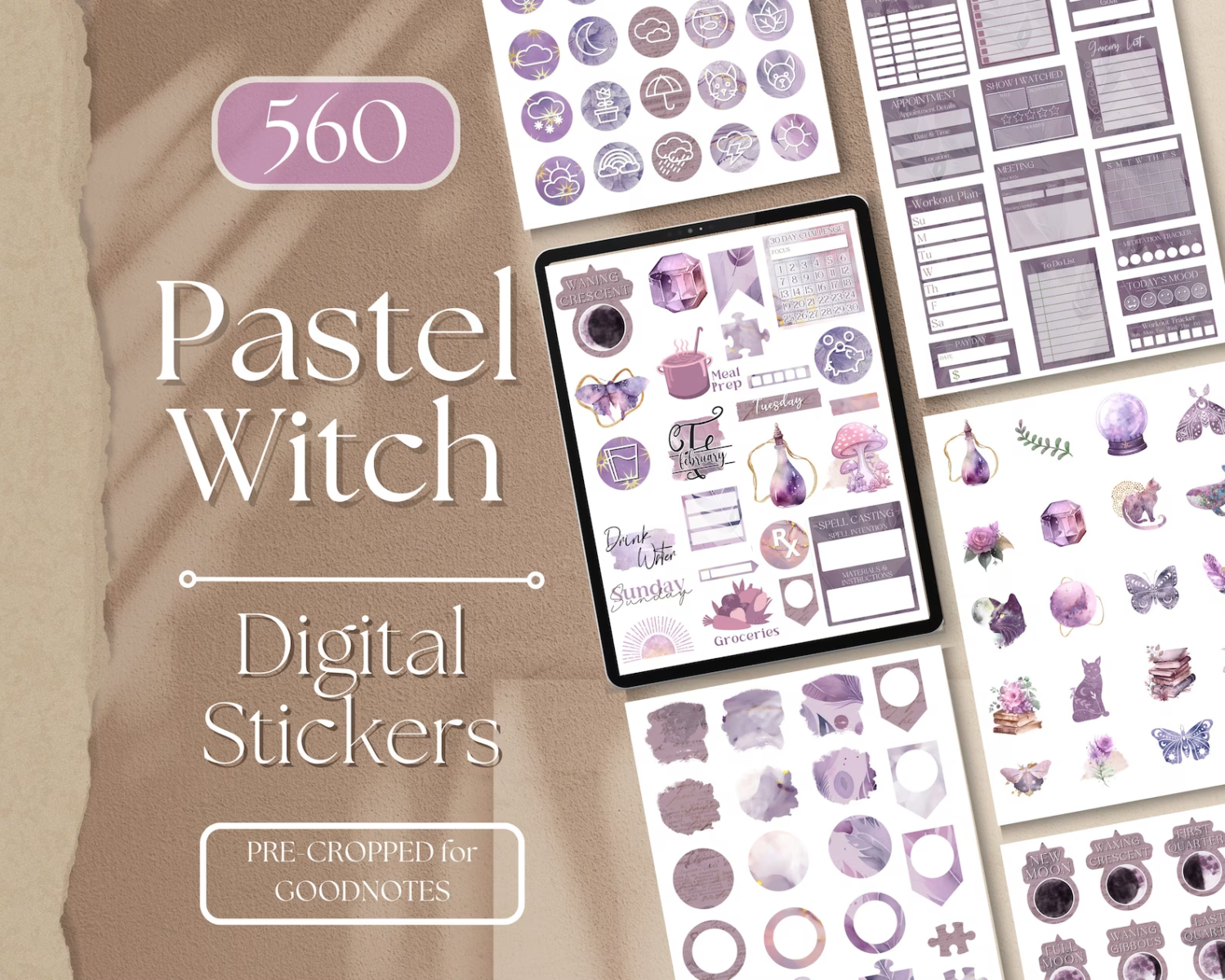 Who said witches can't love pastels? This vast collection of over 560 designs blends witchy vibes with soft pastel hues to create a harmonious blend of magic and serenity. From mystical moons to pastel potions, these stickers will enchant your planner with a gentle touch of the supernatural.
Witchy Planner Stickers – Digital Moon Magic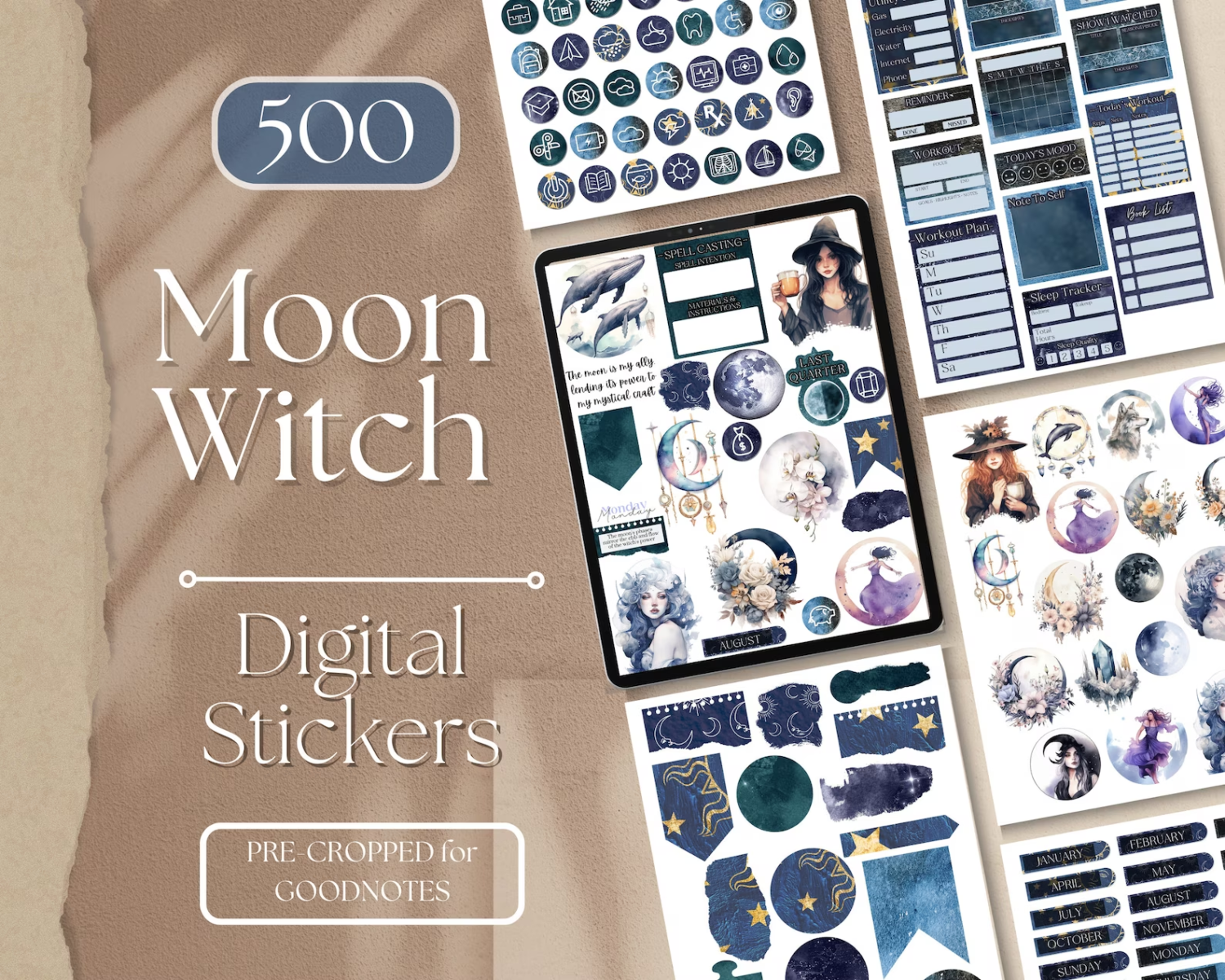 Infuse every page of your planner with celestial allure using these moon magic-inspired stickers. With designs emphasizing phases of the moon, stars, and other astral wonders, each sticker is a small portal to the universe. Perfect for planners who seek guidance from the stars or simply adore the beauty of the night sky.
Cute Halloween Digital Stickers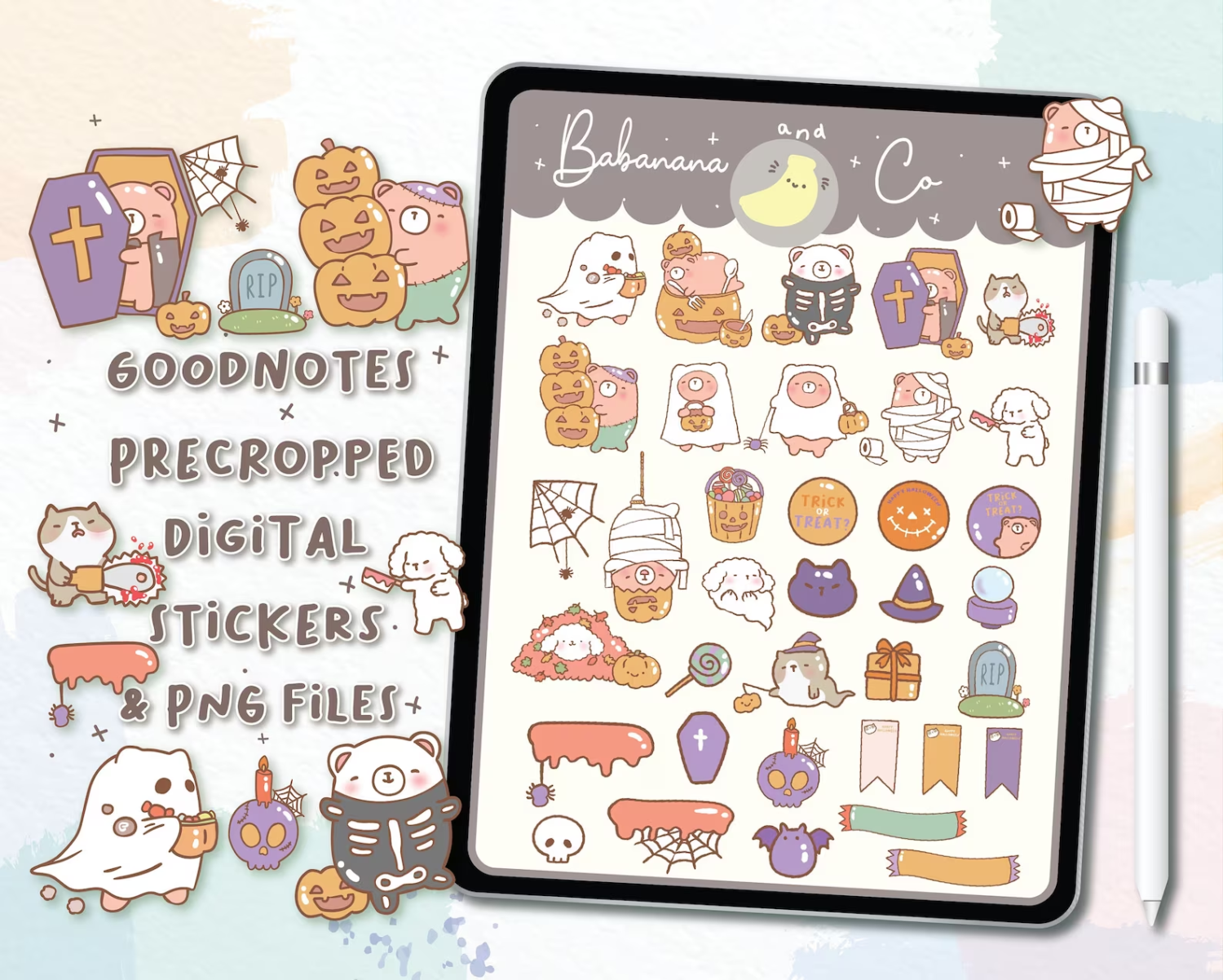 Halloween doesn't always have to be eerie; sometimes it's downright adorable! This set offers the perfect blend of spookiness and sweetness, with cheerful pumpkins, friendly ghosts, and more. Whether you're crafting a festive October spread or just want to add a playful touch to your pages, these stickers are the way to go.
Kawaii Halloween Digital Stickers – Cute Ghosts & Friends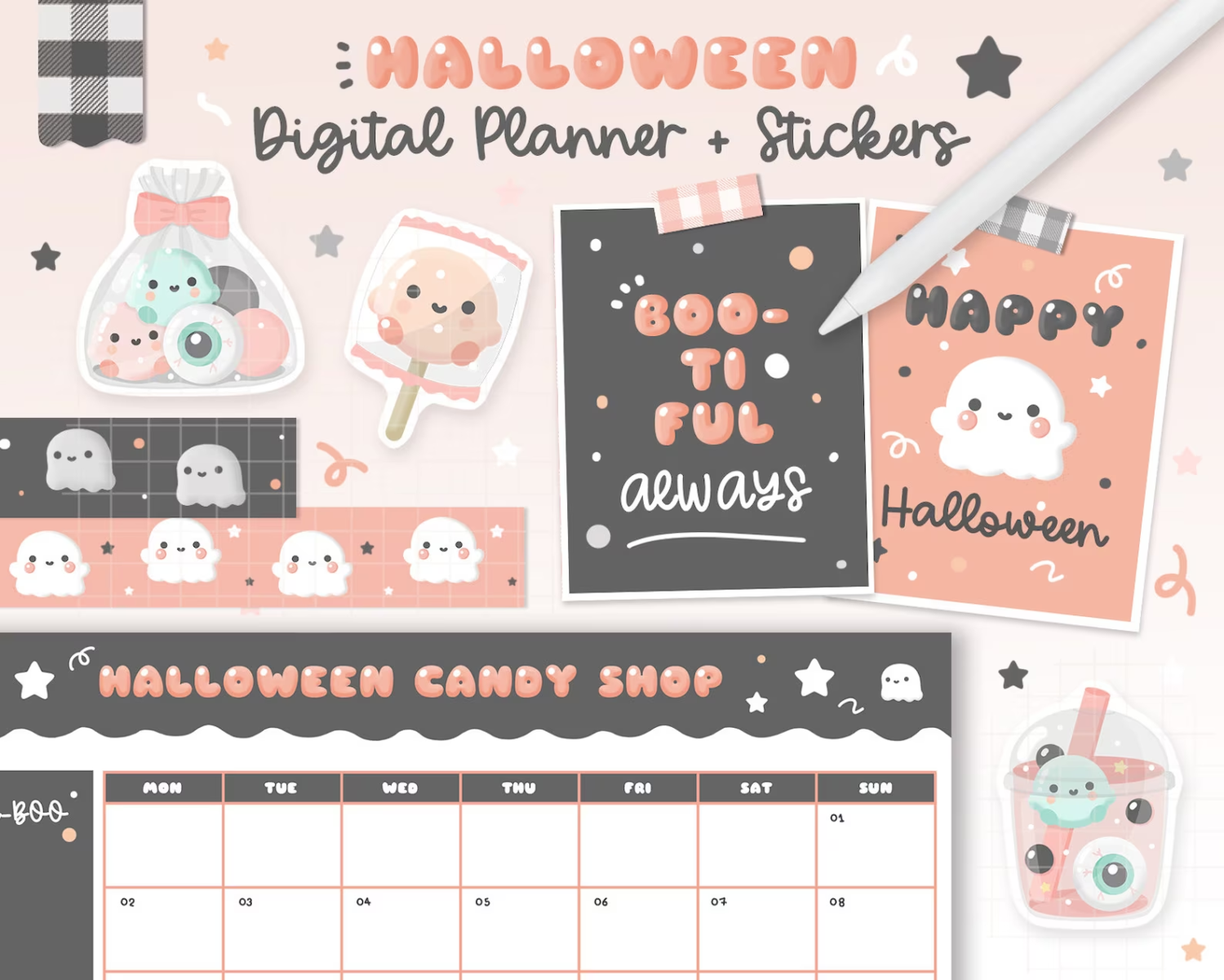 Dive into a world where Halloween cuteness reigns supreme! This set of Kawaii-inspired stickers will have your planner bubbling with joy. Featuring the most adorable ghosts, pumpkins, and other Halloween pals, these stickers are perfect for those who can't get enough of the season's playful side.
Wrapping It Up

We hope you enjoyed our curated list of digital delights that promise to bring the eerie charm of Halloween right to your digital pages.
If you're looking for more Halloween spooky decorations in your life, check out Etsy's Halloween shop