Disclosure: This website is a participant in various affiliate programs, including the Amazon Services LLC Associates Program, an affiliate advertising program designed to provide a means for sites to earn advertising fees by advertising and linking to Amazon.com. As an Amazon Associate, we earn from qualifying purchases. We also participate in other affiliate programs and may earn commissions through purchases made through our links. Any opinions, reviews, recommendations, or endorsements expressed on this site are our own and are not influenced by any third-party products or services being promoted.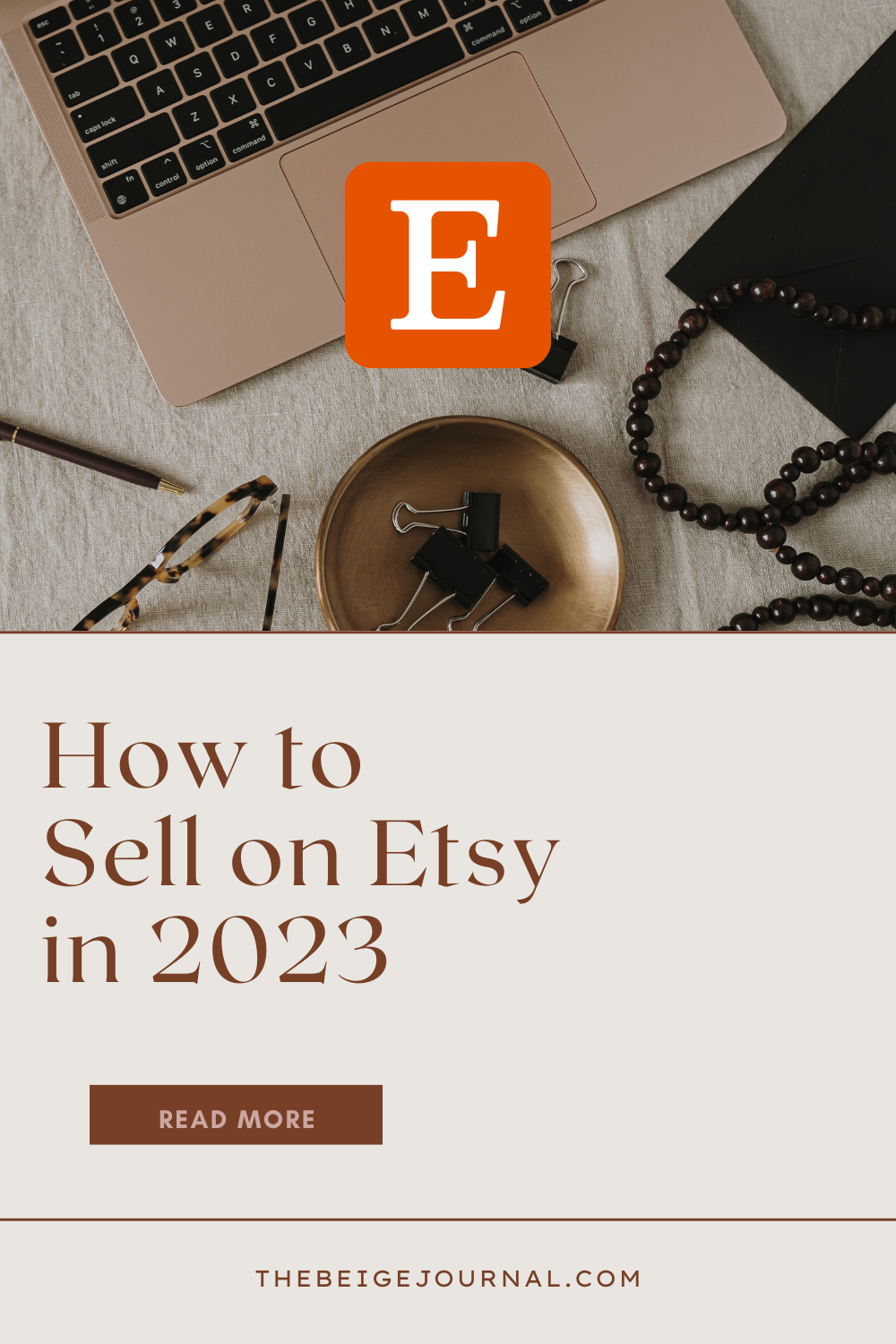 If you're reading this, you're likely interested in making money online and have chosen Etsy as your preferred platform. With millions of buyers and sellers, Etsy is the perfect marketplace for creative entrepreneurs to showcase their handmade, vintage, or unique items.
As a beginner, you might have a lot of questions about how to sell on Etsy. This comprehensive guide is designed to answer all the possible questions you may have, and to help you launch your Etsy shop with confidence. So, let's dive in!
What can I sell on Etsy?
Etsy is a marketplace primarily for handmade, vintage (at least 20 years old), and craft supplies. These are the main categories:
Handmade items: You can sell any product that you've created by hand. Examples include jewelry, clothing, accessories, home decor, and artwork.
Vintage items: Items that are at least 20 years old qualify as vintage. These can be clothing, accessories, home goods, or collectibles.
Craft supplies: Materials, tools, or ingredients used to create handmade items also have a place on Etsy.
How do I create an Etsy shop?
To create an Etsy shop, follow these steps:
Register for an Etsy account.
Click on "Sell on Etsy" and then "Open Your Etsy Shop."
Choose your shop name, following Etsy's guidelines.
Stock your shop with at least one product listing.
Choose your payment methods and set up billing.
Set up your shipping preferences.
Publish your shop.
What this video for a full tutorial!
Looking for an iPad?

How much does it cost to sell on Etsy?
Etsy charges a few different fees:
Listing fee: $0.20 per item, paid when you create or renew a listing. This fee is valid for four months.
Transaction fee: 5% of the item's price and any shipping and gift-wrapping fees.
Payment processing fee: This varies by country, but it's typically around 3% + $0.25 per transaction.
How do I price my items?
When pricing your items, consider these factors:
Material costs: Add up the costs of all the materials used in your product.
Labor costs: Determine the time you spent creating the item and assign a reasonable hourly wage.
Overhead costs: Consider expenses like tools, equipment, and workspace.
Shipping and packaging: Calculate the costs of shipping materials and postage.
Etsy fees: Factor in listing, transaction, and payment processing fees.
Profit margin: Add a percentage for your desired profit.
Read our post about making your first sale on Etsy
How can I make my Etsy shop stand out?
To make your shop stand out, focus on:
High-quality product photos: Showcase your products with clear, well-lit, and attractive images. I make my mockups in Canva. They have Smartmockups and product image generator that makes everything super easy! Try Canva Pro for FREE with my link.
Detailed descriptions: Provide accurate and enticing product descriptions, including materials, dimensions, and care instructions.
Customer service: Offer friendly, responsive, and helpful communication to build trust with your customers.
SEO optimization: Use relevant keywords in your product titles, descriptions, and tags to improve visibility on Etsy search.
Check out my favourite Etsy research tools!
eRank is a powerful online tool designed to help Etsy sellers increase their sales and grow their businesses. With features like SEO analysis, keyword research, and trend tracking, eRank provides valuable insights and data to help sellers optimize their listings and reach more customers.
Everbee is a Chrome extension so it allows you to see stats while you are searching Etsy for product ideas. That can be really helpful so you can zoom in on popular now and bestseller listings as you search. eRank is not a Chrome extension so you use the tool by itself
Etsy Hunt is a powerful online tool designed to help Etsy sellers increase their sales and grow their businesses. With features like real-time trend tracking and powerful analytics, Etsy Hunt provides valuable insights and data to help sellers optimize their listings and reach more customers.
Use code "mandaetsy" for 20% off!
Sale Samurai is a tool that was created for Etsy sellers to analyze keywords and use analytics to find ways to improve your shop and bring in more sales. It gives you an overview of what is currently working in your shop, what could bring you in more customers, and any potential new product ideas.
How do I promote my Etsy shop?
Promoting your Etsy shop can be done through:
Social media: Share your products and behind-the-scenes content on platforms like Instagram, Facebook, Pinterest, and Twitter.
Blogging: Write engaging content related to your niche and link back to your Etsy shop.
Networking: Connect with other Etsy sellers, join Etsy communities, and participate in online forums to expand your network and learn from others.
Collaborations: Partner with influencers, other Etsy sellers, or complementary businesses to cross-promote your products.
Craft fairs and events: Showcase your products at local events to gain exposure and build your customer base.
How do I handle shipping and packaging?
Shipping and packaging are crucial aspects of running an Etsy shop. Here's how to manage them effectively:
Research shipping options: Compare different carriers and their rates to find the best option for your products and locations you're shipping to.
Set up shipping profiles: Create shipping profiles in your Etsy shop to apply consistent shipping rates and options to your listings.
Choose packaging materials: Select high-quality, sturdy packaging materials that protect your products and reflect your brand's aesthetic.
Offer tracking information: Provide tracking information to your customers whenever possible for a more reliable and transparent experience.
Consider shipping insurance: If you're selling valuable or fragile items, consider adding shipping insurance to protect against loss or damage.
How do I handle returns and refunds?
It's essential to have a clear return and refund policy for your Etsy shop. Here are some tips to help you manage these situations:
Establish a return policy: Outline the conditions under which returns, exchanges, or refunds are accepted, and be sure to include timeframes and procedures for each.
Communicate your policy clearly: Include your return and refund policy in your shop's policies section and mention it in your product descriptions or as a note to buyers at checkout.
Handle disputes professionally: If a customer has an issue, respond promptly, listen to their concerns, and work towards a fair and reasonable resolution.
Learn from returns: Use feedback from returns to improve your products, listings, or packaging.
How do I manage taxes and legal requirements?
Running an Etsy shop involves meeting certain tax and legal obligations. Here are some basic guidelines:
Research your tax obligations: Depending on your location and income, you may need to collect sales tax, pay income tax, or submit specific tax forms.
Obtain necessary permits and licenses: Some businesses may require permits or licenses, such as a sales tax permit, business license, or tax identification number.
Follow local laws and regulations: Be aware of any local laws or regulations that may apply to your products or operations.
Consult with a professional: To ensure compliance, consider consulting with a tax professional or attorney familiar with your specific situation.
You can put up a successful Etsy shop and start generating money online with the appropriate information and planning. This overview has answered many of your questions about how to sell on Etsy, but keep in mind that ongoing learning and adaptability are essential for long-term success. So, embrace your entrepreneurial spirit and have fun establishing your Etsy store!
---
Ready to start your new shop?
Download our guide!