Disclosure: This website is a participant in various affiliate programs, including the Amazon Services LLC Associates Program, an affiliate advertising program designed to provide a means for sites to earn advertising fees by advertising and linking to Amazon.com. As an Amazon Associate, we earn from qualifying purchases. We also participate in other affiliate programs and may earn commissions through purchases made through our links. Any opinions, reviews, recommendations, or endorsements expressed on this site are our own and are not influenced by any third-party products or services being promoted.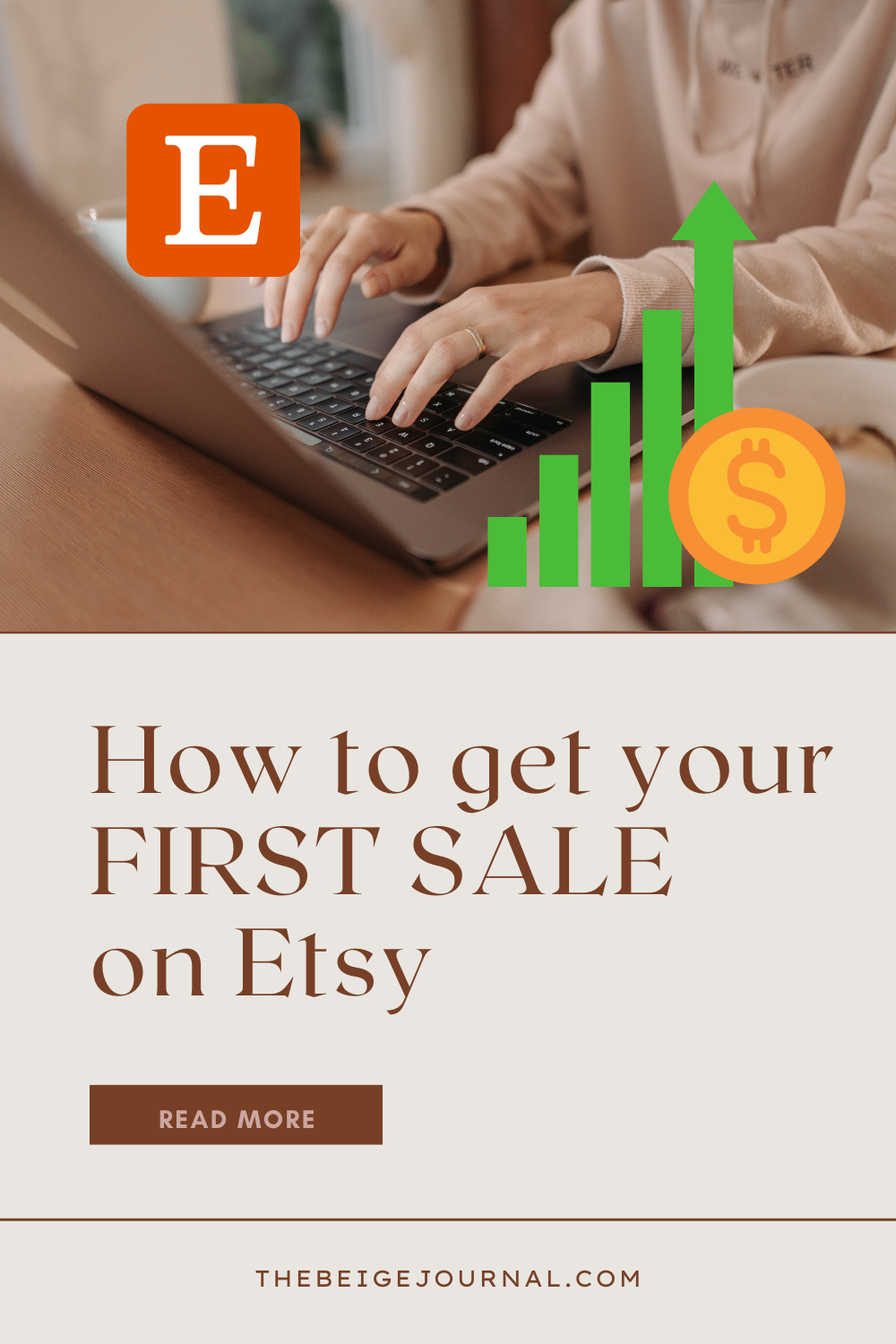 Video transcript
Hey there fellow Etsy sellers! If you're watching this video, chances are you've recently set up your Etsy shop and are eagerly waiting for that first sale. I know how frustrating it can be to put your heart and soul into creating products, only to struggle with making your first sale. When I started my Etsy shop, I was in the same boat. But after trying a few different strategies, I finally made my first hard earned sale.
In this video, I want to share with you the four tips that helped me get my first sale on Etsy. SO let's get started!
And disclaimer,
This is of course on the basis that you've done your market research and know that there are enough demand for your product. If you want to watch my video on how to find a profitable niche, check out my description!
Alright, let's start with tip number one:
"Give away" your first sale or discount your first items like crazy.
Now, you might be thinking, "Wait, why would I give away my first sale? I need to make money!" And I totally get it, but hear me out.
When you make your first sale on Etsy, it sends a signal to the platform that your shop is legitimate and that people are interested in what you're selling. This can actually help Etsy promote your shop to potential customers, increasing your chances of getting more sales
So, to kickstart this process, consider offering a steep discount on your first few items. it help you get that first sale quickly and start building momentum for your shop.
The Etsy algorithm tends to favor shops that have sales, so this can also help boost your visibility in search results and recommended items.
Of course, you don't have to give away your entire inventory, but offering a discount or promotion on your first few sales can be a smart strategy for getting your shop off the ground.
So, don't be afraid to experiment with pricing and promotions, and remember that sometimes letting go of the first few sales can go a long way in building your Etsy business.
My second tip is to:
Looking for an iPad?

Continuously list your items.
It's important to keep your shop active and engaged with your customers. By continuously listing new items, you're sending a signal to Etsy that you're an active shop and that you're invested in growing your business.
Now, I know it can be tempting to set up your shop and just wait for sales to roll in, but Etsy is definitely not a "set it and forget it" type of place, especially in the beginning. It takes effort and dedication to make your shop successful.
By listing new items regularly, you're not only keeping your shop fresh and interesting for your customers, but you're also increasing your chances of being discovered by new customers who are searching for items like yours.
So, make it a goal to list new items on a regular basis, whether that's daily, weekly, or monthly, depending on your schedule and inventory. You don't have to have a huge inventory to make this work – even just a few new listings a week can make a big difference.
Remember, the more active you are on Etsy, the more likely you are to succeed. So keep that momentum going and keep listing those items!
Moving on to tip number three:
Run Etsy ads as soon as possible.
Now, I know what you're thinking – I know there are a lot of conflicting opintions about this and spending money on ads can be intimidating, especially when you're just starting out. But from my experience, running ads on Etsy can be a really effective way to get your shop noticed and start making sales.
When you run ads on Etsy, it sends a signal to the platform that your shop is serious and that you're invested in growing your business. Plus, it can help you get more visibility and attract new customers who are interested in your products.
Now, when it comes to running ads on Etsy, there are a few things to keep in mind. First, make sure you're targeting the right audience – people who are most likely to be interested in your products.
Second, set a budget that makes sense for your business. You don't have to break the bank to run effective ads, but you do want to make sure you're investing enough to get results.
And finally, monitor your ad performance closely and adjust your strategy as needed. This will help you get the most out of your advertising dollars and make sure you're reaching the right customers at the right time.
So, don't be afraid to give Etsy ads a try, even if you're just starting out. With the right strategy and approach, they can be a powerful tool for growing your shop and reaching new customers.
Moving on to our final tip – tip number four:
Run 24-hour sales.
Running a sale on Etsy can be a powerful way to attract customers and drive sales. By setting a time limit of just 24 hours, you create a sense of urgency that encourages customers to act quickly and make a purchase.
When you run a 24-hour sale on Etsy, it shows a green bar on your listings in search and a countdown timer that lets customers know how much time is left to take advantage of the sale. This can be a great way to catch the attention of shoppers who might not have noticed your items otherwise.
In addition, Etsy sends notifications to customers who have favorited your items or shop when you run a sale. This means that people who have shown an interest in your products will be alerted to the fact that they can get a great deal by making a purchase during the sale period.
By combining a short sale window with notifications to potential customers, you can create a powerful marketing tool that can help you drive sales and grow your business.
So, consider running 24-hour sales on Etsy as part of your overall marketing strategy. It can be a great way to attract new customers, keep your shop top of mind, and drive more sales in the long run.
And there you have it
four tips to help you get your first sale on Etsy! By giving away your first sale, continuously listing your items, running Etsy ads, and running 24-hour sales, you can create a strong foundation for your shop and attract new customers.
Of course, these are just a few of the many strategies you can use to grow your Etsy business. But by focusing on these key tactics, you'll be well on your way to success.
If you found this video helpful, please make sure to hit the like button and leave a comment below. And don't forget to follow our channel for more great tips and tricks on how to succeed on Etsy and other online marketplaces.
My favourite Etsy research tools
eRank is a powerful online tool designed to help Etsy sellers increase their sales and grow their businesses. With features like SEO analysis, keyword research, and trend tracking, eRank provides valuable insights and data to help sellers optimize their listings and reach more customers.
Everbee is a Chrome extension so it allows you to see stats while you are searching Etsy for product ideas. That can be really helpful so you can zoom in on popular now and bestseller listings as you search. eRank is not a Chrome extension so you use the tool by itself
Etsy Hunt is a powerful online tool designed to help Etsy sellers increase their sales and grow their businesses. With features like real-time trend tracking and powerful analytics, Etsy Hunt provides valuable insights and data to help sellers optimize their listings and reach more customers.
Use code "mandaetsy" for 20% off!
Sale Samurai is a tool that was created for Etsy sellers to analyze keywords and use analytics to find ways to improve your shop and bring in more sales. It gives you an overview of what is currently working in your shop, what could bring you in more customers, and any potential new product ideas.
Ready to start your new shop?
Download our guide!