Disclosure: This website is a participant in various affiliate programs, including the Amazon Services LLC Associates Program, an affiliate advertising program designed to provide a means for sites to earn advertising fees by advertising and linking to Amazon.com. As an Amazon Associate, we earn from qualifying purchases. We also participate in other affiliate programs and may earn commissions through purchases made through our links. Any opinions, reviews, recommendations, or endorsements expressed on this site are our own and are not influenced by any third-party products or services being promoted.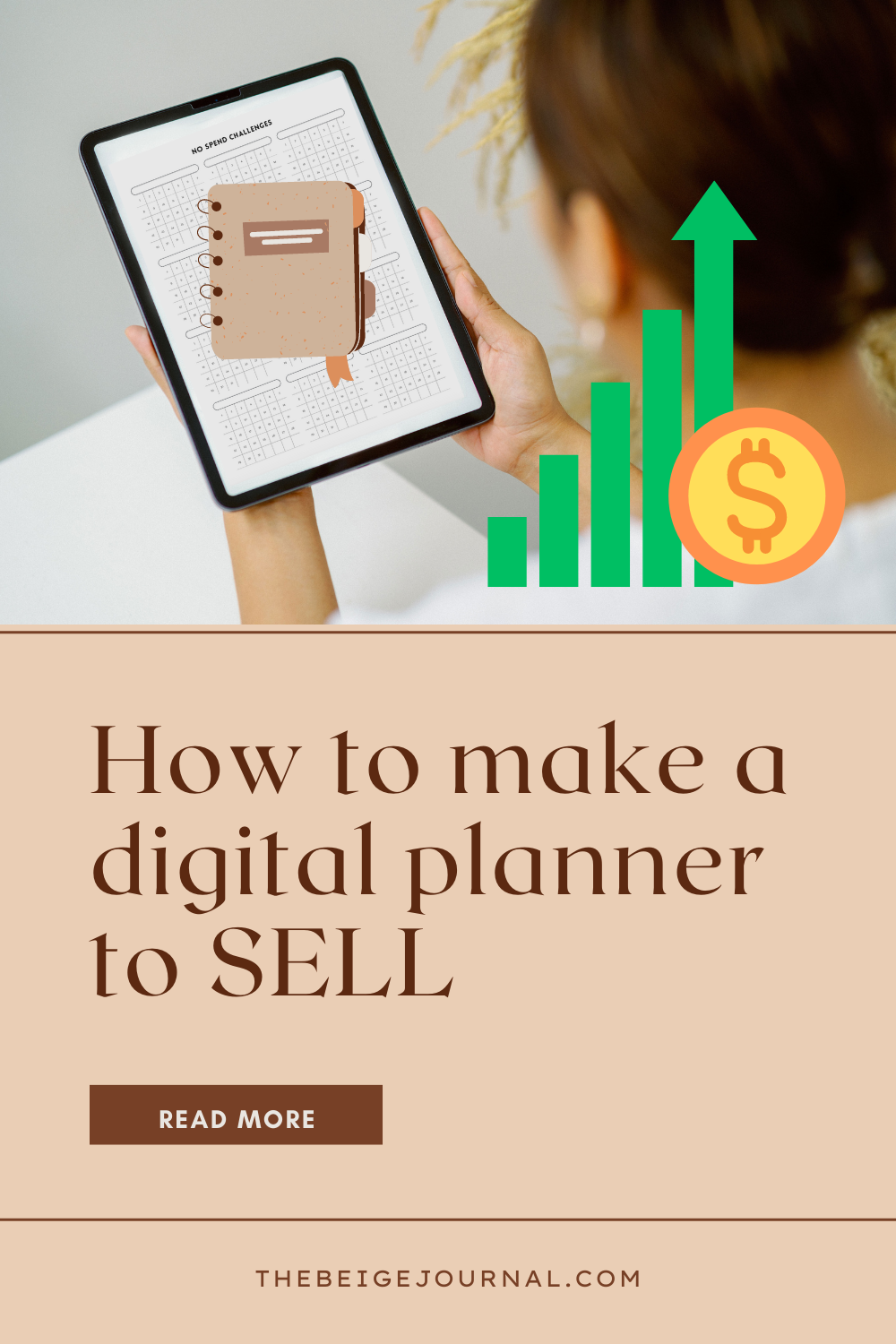 In this blog post, we'll go through some simple steps to make and sell a digital planner on Etsy. Digital goods are getting increasingly popular, and developing a planner is an excellent way to launch your own online business. Well, let's get this party started!
RESEARCH
The initial stage involves doing some research. Examine other Etsy planners to discover what is popular and what buyers want. Examine the types of planners that are most beneficial in people's lives, such as daily, weekly, or monthly planners, as well as planners for specialized activities such as fitness or meal planning. Utilize this information to develop a one-of-a-kind and valuable planner that will appeal to shoppers.
You can use Etsy research tools like SaleSamuri or eRank to find trending planners
DESIGN
Once you've decided on the type of planner you want to make, you can begin designing. To make your planner, use a graphic design program such as Canva or Adobe Illustrator. To give your planner a unified look, use a consistent color scheme and font style throughout. Consider including some eye-catching design features to make your planner stand out.
Use my link to get 30 days of Canva PRO free!
Watch our tutorial on how to make a digital planner using Canva and Google Slides
Looking for an iPad?

FORMAT
When you've finished designing your planner, it's time to turn it into a digital file. To format the planning pages, use a tool like Keynote or Google Slides. You can also include interactive components like clickable tabs and links in your planner. Alternatively, if your planner is small enough, you can add linkable pages through Canva.
Watch the tutorial on how to link pages on Canva
UPLOAD
When your planner is complete, it's time to upload it to Etsy. Create a listing for your planner and be sure to include clear images and a detailed description. Make sure that your pricing is competitive and that you are offering a fair price for the value of your planner.
Watch how to set up your Etsy shop!
PROMOTE
It's time to promote your planner after it's up and running on Etsy. Display your planner on social media channels like as Instagram and Pinterest to generate attention to your Etsy listing. Consider giving your first clients discounts or freebies to help spread the news!
What the tutorial on how to get your first sale!
Get the template!
If you don't have the time to create your own planner, consider getting an already-made template to customize!
This template is also for COMMERCIAL USE! So that means you can sell the planners you make, also long as you don't sell the Canva file as-is.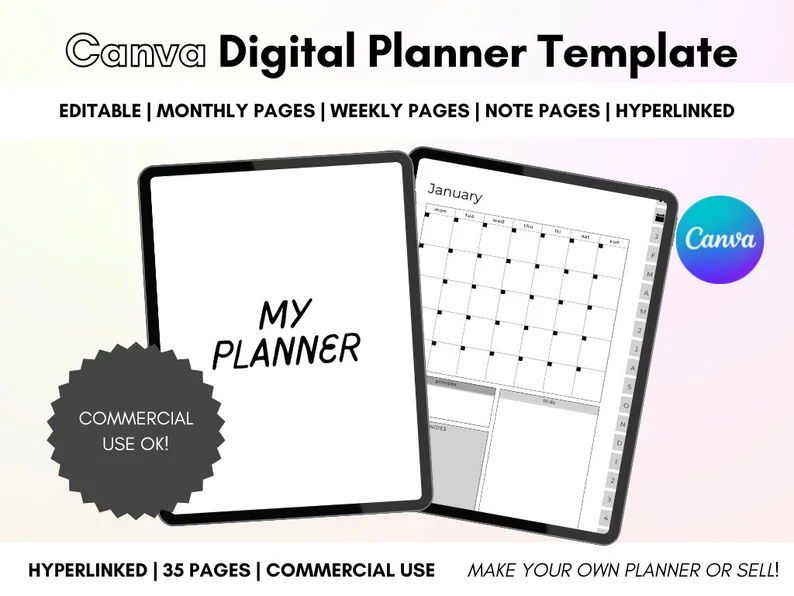 Want a program that can create digital planner templates?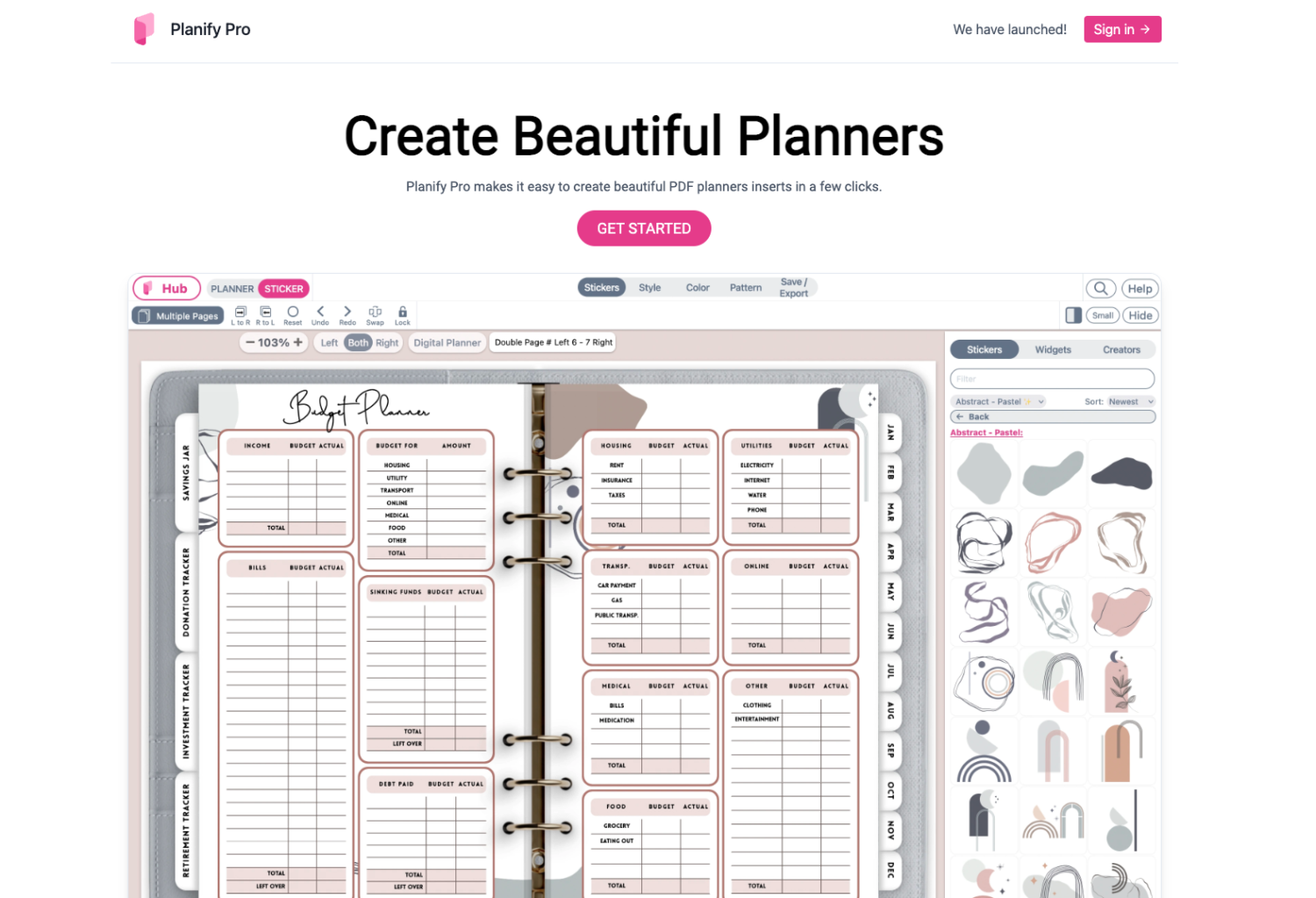 Check out PlanifyPro
Planify Pro is an online platform that provides over 3000 pre-made planner templates, easing the process of arranging your calendar. The tool is perfect for people who want to get organized for work or school because it includes a wide choice of templates for every situation. You no longer need to design planners from the start because Planify Pro does it everything for you. Get using Planify Pro today and reap the benefits of an effective and user-friendly planner template tool.
Ready to start your new shop?
Download our guide!